Dunbarrow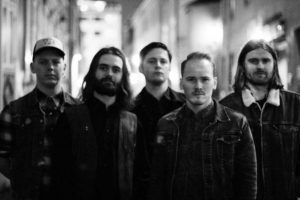 Summoned to play it the old way in a new age, Trondheim, Norway quintet Dunbarrow draws inspiration from freezing winter nights, unpolished demo tapes from the 70's and the Swedish throwback rock from the beginning of the 21st century. The result is Norwegian proto-doom with a back-to-basics sound, from Pentagram and Witchfinder General to Quicksilver Messenger Service.
Dunbarrow's clean, unadorned sound shares the unpretentious brilliance of classic heavy progenitors playing basements and barns, before the big budgets and bloated habits diluted hard rock into an echo chamber awash in reverb and layered in distant, screeching hobbits. The band's 9-track self-titled album is a classic in the sense that every song becomes instantly recognizable after just one listen.
With lyrics like the clever paean to a young witch mother's birth of "Lucifer's Child", Dunbarrow has a wealth of gloomy sentiments: "Can you understand my young mother's plight / Away from the comforts that burn at the stake / She gave birth to a venomous snake / On her great pyre she smiled / For she carried Lucifer's child."
Dunbarrow is based in the far northern Norwegian city Trondheim, but is originally from Haugesund on the west coast of Norway. The band has been playing together for over 8 years through different band names and genres. In 2014, vocalist Espen Andersen joined the band upon the departure of original singer/bassist Richard Chappell. Sondre Berge went from playing drums to playing bass. Kenneth Lønning and Eirik Øvregård are still on the guitars, with Pål Gunnar Dale taking over the drums permanently in 2016. Espen Andersen recorded and mixed the debut album at Stoy Studios. Dunbarrow is hitting the studio for their second album this summer.