Monolord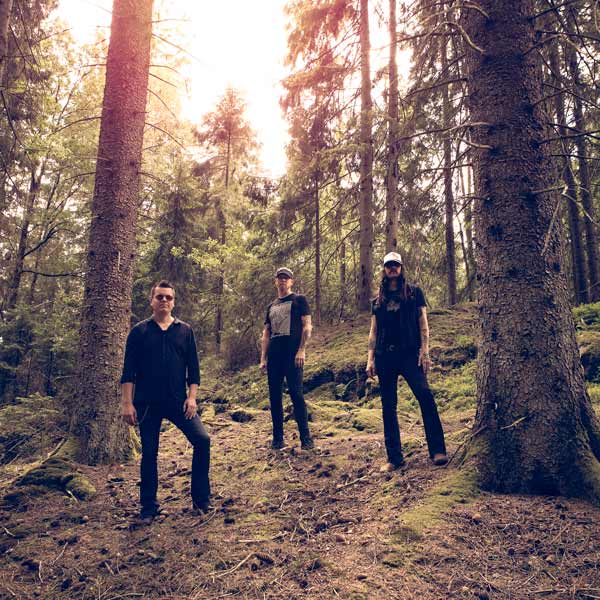 In 2013, Monolord first emerged from their native Gothenburg, Sweden behind an impenetrable wall of distortion and spell-binding vocals. The outside world took notice in a big way as the trio of Thomas V Jäger [vocals, guitars], Esben Williams [drums], and Mika Häkki [bass] garnered a flurry critical acclaim for their RidingEasy Records debut, Empress Rising, a year later.
Decibel Magazine decreed them, "your new favorite band," New Noise Magazine called the album, "fantastic," and This Is Not A Scene announced, "the power they capture speaks for itself," as they became mainstays on the top of Bandcamp's Doom chart. However, Monolord's sophomore set Vænir opens up the gateway into their world wider…
"From day one, it's always been our aim to build a massive wall of rumbling sound," declares Thomas. "That's our common goal. We're the exact opposite of a band consisting of members with identical record collections. We come from three fairly different places, but we're all drawn to dark, heavy, and gritty music. What we do in Monolord is the result of that creative conflict between us—that's conflict in the word's positive sense."
Within that push-and-pull of aesthetic, the three-piece found the framework for Vænir. Shortly after the release of Empress Rising, the group returned to their tiny rehearsal space to cut and personally produce the album's six tracks with Esben mixing and mastering.
Opener "Cursing the One" trudges from a calculated, staggered groove into a guttural drowning choir of hauntingly hypnotic vocals. "We Will Burn" tempers the slow burn with incendiary melody, while the ten-minute-plus "Died A Million Times" swings the pendulum between that growl of distortion and a clean guitar. The penultimate reprieve on "The Cosmic Silence" gives way to an expansive finale dirge with the title track.
"That title comes from the ancient name of Sweden's largest lake," Thomas reveals. "The lyrics are about unspeakable things happening at the lake during the night, which fits well with the mood of the entire album. It's that cold, dark, and final embrace of a vast lake."
Throughout, Thomas lyrically explores the dark core of humanity. "Misanthropy is an ever-present theme in everything we do," he goes on. "The disgust for what humans do to each other and to the planet is constant. Religion, greed, and power madness run through humanity like incurable diseases, which is, consequentially, a constant stream of inspiration for us."
Ultimately, Monolord offers shelter from some of that darkness. "I hope we can be an outlet to the massive and destructive stupidity surrounding us all," Thomas concludes. "This band is our safety valve. We hope the same goes for our fans."
Showing 1–24 of 25 results