The Picturebooks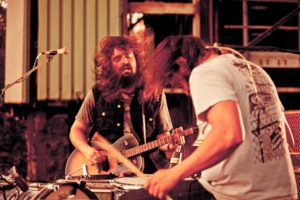 It's not surprising that THE PICTUREBOOKS recorded their 2014 album, Imaginary Horse [RidingEasy Records], in the same garage where they regularly refurbish and repair motorcycles and choppers. The German duo—Fynn Claus Grabke [vocals, guitar] and Philipp Mirtschink [drums]—capture a raw, rich, and real energy befitting of the room's natural reverb, industrial aura, and spiritual spark.
Fynn and Philipp first crossed paths at a local skate park. Becoming fast friends, they realized their mutual interests extended beyond skateboarding and into music like The Smiths, The Cure, and Minor Threat. Soon, they began writing songs together, utilizing equipment Fynn's dad Claus had accumulated over his years as a musician and record producer.
After two independent releases in Europe, the pair played major festivals such as Sziget and toured with everybody from International Noise Conspiracy to Spinnerette. Simultaneously, they garnered international attention for their motorcycle builds and received prominent profiles in tastemaker publications including DICE Magazine, Kustom, and many others. Following an explosive Hollywood gig supporting Eagles of Death Metal for DICE, they embarked on their inaugural North American tour and buzz began to organically spread through word of mouth and social media. By the time they returned home, the group had inked a deal with Riding Easy Records.
THE PICTUREBOOKS retreated to their "garage" in order to record their debut North American record. Mirroring their daredevil skateboarding ethos, they broke rules while recording. For starters, there was considerable physical space between the musicians and the microphones, and it wasn't simply a sterile studio environment. The concrete floors and airy expanse contributed to the sound, and the overall atmosphere proved quite a propos. They even constructed their own instruments to boot. Fynn picked up thrift shop guitars in Los Angeles. Influenced by the tribal sounds of Native American music, the band built custom percussion and augmented their feet with bells. Moreover, Philipp decided to eschew playing cymbals and adopted large Toms, which he bashes with mallets instead of sticks. They conjured true fire in the garage with that astounding, untainted reverb and their personal arsenal of modified instruments.
Ultimately, all of these pieces form a blues rock pastiche that's as individualistic as it is infectious.