Brown Acid
Some of the best thrills of the Internet music revolution is the ability to find extremely rare music with great ease. But even with such vast archives to draw from, quite a lot of great songs have gone undiscovered for nearly half a century — particularly in genres that lacked hifalutin arty pretense. Previously, only the most extremely dedicated and passionate record collectors had the stamina and prowess to hunt down long forgotten wonders in dusty record bins – often hoarding them in private collections, or selling at ridiculous collector's prices. Legendary compilations like Nuggets, Pebbles, ad nauseum, have exhausted the mines of early garage rock and proto-punk, keeping alive a large cross-section of underground ephemera. However, few have delved into and expertly archived the wealth of proto-metal, pre-stoner rock tracks collected on the Brown Acid series.

Lance Barresi, owner of L.A./Chicago retailer Permanent Records has shown incredible persistence in tracking down a stellar collection of rare singles from the 60s and 70s for the growing compilation series. Partnered with Daniel Hall of RidingEasy Records, the two have assembled a selection of songs that's hard to believe have remained unheard for so long. 
"I essentially go through hell and high water just to find these records," Barresi says. "Once I find a record worthy of tracking, I begin the (sometimes) extremely arduous process of contacting the band members and encouraging them to take part. Daniel and I agree that licensing all the tracks we're using for Brown Acid is best for everyone involved," rather than simply bootlegging the tracks. When all of the bands and labels haven't existed for 30-40 years or more, tracking down the creators gives all of these tunes a real second chance at success. 
"There's a long list of songs that we'd love to include," Barresi says. "But we just can't track the bands down. I like the idea that Brown Acid is getting so much attention, so people might reach out to us."
FIRST TRIP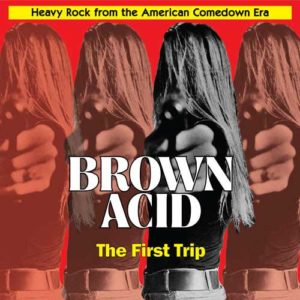 Brown Acid: The First Trip opens with the slithering buzzsaw guitars and hard-rock howl of Zeke's' "Box", a monster that gives Blue Cheer a run for their leaden blues. Snow sways into "Sunflower" with a touch of Steppenwolf's swagger and wind-in-their-hair wildness. Elsewhere, Zebra proves they were "Wasted" with a soul-inflected groove, while Bob Goodsite leans in on his wah-wah and phaser pedals, determined to out-Hendrix Jimi himself on "Faze." Raw Meat's "Stand By Girl" serves up a fierce, stomping riff intercut with Iron Butterfly style operatics. Bacchus kicks out a hostile sounding boogie, demanding to "Carry My Load." Josefus caps it all off nicely with a hooky power-pop meets Bob Seger System meets Lollipop Shoppe anthem with the undeniably catchy chorus, "hard luck — keep truckin'!"
SECOND TRIP
One song on The Second Trip actually never even saw light of day, until now. "Bell Park Loon" by Spiny Norman – sounding like Jethro Tull on more acid and heavier cider – languished in a collector's archives, unreleased for 38 years until Barresi and Hall arranged to license some of the collector's goldmine. 
Brown Acid: The Second Trip opens with the squealing guitar harmonies and Sabbath plod of Ash's "Midnight Wish." Sweet Crystal's "Warlords" is a fuzzy and fierce Deep Purple/Arthur Brown inspired organ-led anthem. Raving Maniac's 'Rock and Roll Man" is a tight and brash glam-meets-metal tune proving the true potential of a genre later squandered on Sunset Strip poodleheads. "Silence of the Morning" by Glass Sun serves grungy psych while the Volt Rush Band merges MC5 frantic energy with razor-sharp guitar leads. And, Iron Knowledge's aptly titled "Show Stopper" features a breakbeat and incredibly infectious detuned bass warble motif that DJs would kill for – had anyone been able to find the tune back in the day. Throughout, The Second Trip is yet another wall-to-wall set of blazing tracks that feels like you've uncovered a holy grail. And, in a way, you have.

THIRD TRIP
"We continue down the wormhole of hard rock, heavy psych, and proto-metal here on The Third Trip with a set of tunes so obscure they can't be seen without a third eye. Most of these tracks were recorded in shack-sized studios, privately pressed for promotional purposes, and tossed out like last night's half empties only to later be discovered to be half-full, if not overflowing with greatness. The majority of these tracks are from the good ol' US of A with two exceptions, Ash-labelmate New Zealanders, Chook, and the mighty Limeys, Factory.
"We won't take full credit for it, but we're sorry to say that these types of 45s have skyrocketed in value over the last little while and some of the records included in this volume have only changed hands a handful of times on the collector market. Although it's a bummer for the pocketbook, we say "Hell Yeah!" it's about time these rarities have become recognized as the priceless artifacts that they are."
FOURTH TRIP
If you thought we were getting close to the end of the Brown Acid series with our last Trip, you were dead wrong…we're only just getting rolling.  The well of privately released hard rock, heavy psych, and proto-metal 45s is deep and we are nowhere near tapped out.  Most of these records were barely released and never properly distributed so they ain't easy to find, but they're out there if you're willing to dig…and we aren't afraid to get our hands dirty.  Hard calluses have formed from handling the shovel and we've sifted through a lot of dirt, but we've dug up another ten tremendous records to share with all the heavy heads out there.  This volume brings together eight insanely rare and skull-crushingly heavy 45s as well as two previously unreleased bangers.
You may remember the Zekes' jaw dropper "Box" from the First Trip.  If you don't, you better go back and refresh your memory, you stoner.  That song rips!  And so does this previously unheard recording we've legally obtained from the Beverly Hills Records vaults.  "Comin Back" is the longest tune we've yet to include on this series and it's a full-on rager!  The only surviving copy of this recording came to us on the original 1/4" master tape from Hollywood's long-defunct Demars & Duffy Music.  We did our best to preserve the recording and we think you'll appreciate the rawness.
There have been numerous groups named Bad Axe over the years, but the one you hear here is the baddest.  This five-piece fresh outta high school kicked out this jam (and a few others) in a Chicago studio in 1973 just for the hell of it.  As a garage band, they were previously named The Burlington Express and they went on to be known as Bitch, but these dudes hit their stride as Bad Axe and "Coachman" is their crowning achievement.  It went completely unreleased until 2014 when Permanent Records issued it and "Poor Man, Run" as a limited edition 45 with a killer picture sleeve.  It's long out-of-print and only obtainable now on Brown Acid.
The rest of the records included on this volume vary in rarity, but at least two of them were virtually unknown until we discovered them.  You'll win the lottery before you find copies of all of the original 45s in even the best record stores.  Many of the records included in this volume are owned only by the members of the bands and some of the band members don't even have personal copies.  Such a bummer.
Anyhow, plug in, turn up, and freak out…this is what RocknRoll is all about.
FIFTH TRIP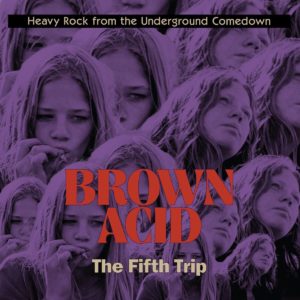 We're back! And the hits just keep coming. For the fifth lysergic journey, we've assembled 10 heavy slabs of obscure rock the likes of which have never been seen before… not in this form anyhow. And as usual, the tracks from these impossibly rare records have all been fully cleared through the artists themselves. We've gone to great lengths to get the best possible master sources, the worst case scenario being an original 45. 'Cuz it ain't worth doing unless you do it right. 
The legendary Captain Foam kicks off this Trip like an anvil to your skull with a rollicking stomper sounding like The Who with Matt Pike's thunderous guitar tone. "No Reason" is a track we've been wanting to share with you boneheads since the start. Captain Foam (aka Richard Bertram) wasn't easy to find, but lo and behold, our super sleuths located him and got his blessing to include the A-side of his sole single here for you. Good luck finding an original copy of the record. It's rarer than raw beef.
That's just the tip of the iceberg. The other nine tracks continue the onslaught in typical Brown Acid form. You may be familiar with George Brigman's psychedelic punk masterpiece "Jungle Rot", but you don't know Split until you've heard the charmingly disjointed bedroom-fi production of "Blowin' Smoke". Finch sounds way out of time (1968) and place (Milwaukee) on the grungeadelic anthem "Nothing In The Sun". Cybernaut's heavy prog – giving their Canadian cohorts Rush a run for their money – and Flasher's "Icky Bicky" boogie prove beyond a shadow of a doubt that our neighbors to the north can rock with the best of 'em. Meanwhile, Fargo's hallucinogenic BBQ sauce soaked "Abaddon" and Mammoth's fittingly beefy eponymous riff-monger continue the long line of heavies from the Lone Star State. Ohio based screamers Lance features members of Inside Experience, whom you might recall from the Third Trip. Zebra's gritty rendition of "Helter Skelter" is most likely the way Charles Manson heard the song in his head. And finally, the mysterious and previously unheard Thor appears here exclusively and for the first time ever with their unknown 45 track "Lick It". Many thanks to our pal Mike Vegh for turning us on to this one.
SIXTH TRIP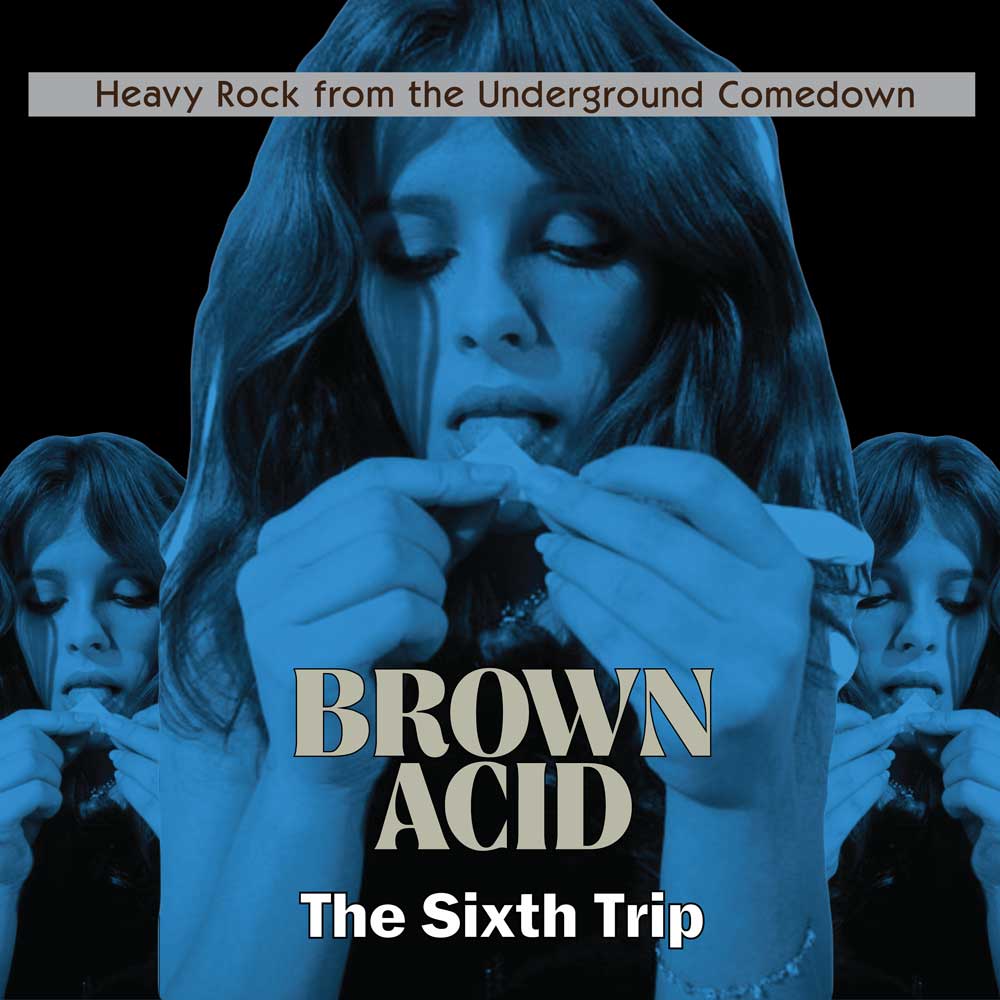 If you'd told us when we started this epic journey that we'd have six volumes worth of licensed tracks released in just three years, we would've laughed in your face! Doing the Dark Lord's work isn't an easy job, but somebody's gotta do it, so here we are with six Trips under our belt and more lined up. You heads just can't get enough obscure hard rock, heavy psych, and proto-metal from the late-60s & 70s! And for that, we're grateful for the opportunity to keep laying these slabs in your lap.
This isn't just a random mixtape we threw together off the Internet. We find the records, track the bands and transfer the tapes, so you don't have to. The bands did their job back in the day by writing, recording and releasing this material, most times against all odds, and you've squandered your hard earned scratch on this record, so I guess the least we can do is continue to compile quality Rock'n'Roll cuts from the golden age of heaviness.
Showing 1–24 of 49 results