Firebreather – Under A Blood Moon
Out Worldwide September 27 2019
Double LP Gatefold with D Side Etching
Over 50 minutes of bone crushing riffs from Gothenburg Sweden
Limited to 75 Red with black Splatter
Limited to 100 Clear
Limited to 300 Opaque Green
Black Limited to 200
Digi Pak CD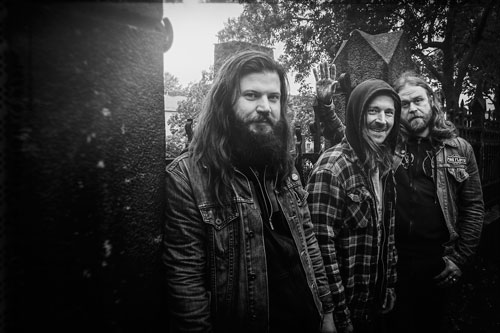 Firebreather 
Under a Blood Moon
Fire is what happens when a carbon based object is consumed by oxygen. That chemical reaction is fitting to the sound of Firebreather: The riffs are suffocating, the rhythms fast moving and all-consuming. It's so blindingly and deafeningly monolithic, don't be surprised to find yourself gasping for air while listening.
The Gothenburg, Sweden trio has a streamlined focus on driving, symphonic riffs in the vein of High on Fire, Inter Arma and their tour- and label-mates Monolord. The guitar and bass tones are, quite simply, entrancing. Like watching flames engulf a forest, the billowing guitar tones are simultaneously beautiful and destructive, while the rhythms sway and lunge with vicious precision.
"It's
riff based, heavy as fuck, but with a groove to it," explains vocalist/guitarist Mattias Nööjd, formerly of popular Swedish doom merchants Galvano. "We had gotten off a tour with Monolord in February of 2018 and by that time we had the song 'Firebreather' done," but soon thereafter new drummer Axel Wittbeck joined the fold.
"
Once Axel had joined, it was like the flood gates opened," says bassist Kyle Pitcher. "The rest of the album just came together."
Under a Blood Moon
was recorded at
Elementstudion in Gothenburg with engineer Oskar Karlsson, who also recorded the band's lauded 2017 self-titled debut on Suicide Records. 
Album opener "Dancing Flames" sets the stage for the onslaught to come with a slinking, serpentine riff over slow churning rhythms.
Nööjd's hushed, gravelly vocals sink into the mix, more like a baritone guitar than a human voice. "Our Souls, They Burn" nicely exemplifies the band's furious grind that makes even faster tempo songs sound impossibly heavy, like a slow motion stampede. Elsewhere, "We Bleed" perfectly sums up the band's focus on the riff and groove, honing in on the power of hypnotic attrition. Closing epic, "The Siren" opens with lugubrious, slightly swinging drums and rumbling bass building tension over delay- and phaser-soaked guitar harmonics, until a massive, sliding riff crashes headlong into the proceedings. The song seems to cleverly shape shift across several harmonic and rhythmic parts, without losing the core groove underneath. A short pause for breath, then it's off to the races with a galloping crescendo for succinct closure. 
Under a Blood Moon will be available on LP, CD and download September 27th, 2019 via RidingEasy Records.