Get Both Scrap Metal LPs or CDs
$39.99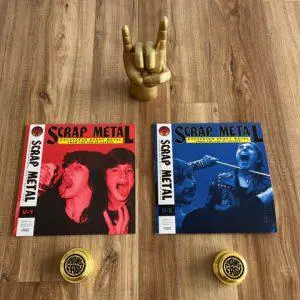 By now you're probably familiar with our wildly popular Brown Acid series of rare, lost and unreleased proto-metal and stoner rock singles from the 60s-70s. In the endless pursuit of those glorious gems, we often uncover equally brilliant rarities from the late-70s to late-80s Golden Age of Heavy Metal that also just must be heard, but they don't fit the series' aesthetic. Scrap Metal: Volume 1 collects some of the greatest unknown and lost Heavy Metal tracks, long buried beneath the avalanche of the era's classic output.
We all know the old adage that history is told by the winners. But sometimes the losers tell the best stories. And while none of these bands found fame and fortune, this artifact and the volumes to come are testament to the enduring power of heavy music. You can hear the blood, sweat and beers that went into each of these singles. The recordings may be low budget, but the inspiration and talent is immutable. Not only are the amps turned up to 11, the boyish sexual innuendo is cranked to 69. You can hear the convergence of influences — NWOBHM, thrash, glam metal, doom, etc — colliding at once as the era birthed a wellspring of subgenres.
Many of these singles are self-released and were thus limited to a small run of copies. Those that remain are hoarded by collectors and sold for exorbitant amounts. We've collected the best of the best for you here. As with Brown Acid, all of these tracks are licensed legitimately and the artists all get paid. Because it's the right thing to do.
About Scrap Metal: Vol. 1:
Rapid Tears launch this series with the perfect christening. The Toronto, ON quintet's 1981 single "Headbang" is such the pinnacle of heavy metal madness that it almost sounds like a spoof. There's also enough of the rapid-fire sputum that inspired Metallica to bang the head that doesn't, as such, engage in said practice, to be found on the band's sole full length Honestly. But "Headbang" is a straightforward glammy anthem for the ages.
Air Raid's "69 In A 55" may be lyrically so sophomoric that it's actually pretty clever, but this 1983 Bay Area power metal single is loaded with sleek Judas Priest riffs and interwoven melodies that are downright sublime. The band's sole release, the 2-song Rock Force 7" features a curious band photo in which 3 band members — dolled up in Crüe makeup and leather — are sexually menacing the lead singer/guitarist tied to a bed. Another low budget highlight is when singer/guitarist Tommy "Thrasher" Merry imitates a delay effect on his vocals as he sings, "tonight!…tonight…night."
Hades' "Girls Will Be Girls" has a real demo cassette feel to its vastly uneven mix, but the energy to the performance makes this an undeniable keeper. The long running Paramus, NJ quintet's 1982 2-song debut 7" titled Deliver Us From Evil features this blistering thrasher dominated by shimmering leads and confident vocals that show why the band went on to near-fame on Metal Blade Records.
Resless don't need no T to prove that they've got "The Power" with this 1984 driving mid-tempo rocker in the vein of Mötley Crüe and Ratt. The River Vale, NJ quartet's tight crunch wails all over Bon Jovi posers but it's the band's unique and subtle deployment of background vocals that gives this rager its staying power.
Pittsburgh, the Steel City, is home to Don Cappa, a band that pays tribute to the burgh, the metal, and the awesomeness of both with "Steel City Metal." Their lone single, issued in 1987 with only 300 copies released, sounds like the work of some serious steel driving men, with a drummer who might've forgotten to wear a hard hat one too many times on the construction site.
The Beast has more of a punk feel to their aggressive "Enemy Ace" track from the 4-song Power Metal EP from 1983 — something like Dr. Know meets D.O.A. But their look, artwork and lyrics all prove that Heavy Metal is where their hearts lie. And this hook filled monster delivers repeated lines like, "I command them all in my lofty realm," with commendable conviction.
Dead Silence from Denver, Colorado, debuting in 1984 is not to be confused with Dead Silence from Denver, Colorado, who also debuted in 1984. The former a workman's hard rock bar band, the latter a political peace punk band and neither knowing of the other's existence throughout their tenure. The pre-internet days were a marvel, indeed.This Dead Silence spits out a slick, Nugent tinged rocker called "Can't Stop" about life on the road.
The Danger Zone is, by all accounts, not the place to be. And, Hazardous Waste of Boston, MA saw fit to add their two cents on the matter with this 1986 single that combines Van Halen's flashy musicianship with NWOBHM aggression that sounds so awesome it teeters on itself entering the "Danger Zone."
Czar's heavy, doomy "Iron Curtain" single from 1982 hearkens to the sleazy sounds of Saint Vitus and Pentagram with its cranked up DOD Distortion pedal in a Peavey combo amp guitar tone and meaty, barking vocals. The upstate NY quintet only issued this 2-song single, but its driving rhythm, nosedive whammy-bar guitar solos and comparatively mature Cold War subject matter show they had real potential.
Not much is known about Real Steel's majestic "Viking Queen" from 1987, other than it rocks hard and the 7" 45 sells for upwards of a grand on the collectors market. The Flint, Michigan band recorded at the home studio of local radio personality Bill Lamb, who primarily released Christian Gospel recordings. So, perhaps the band was struck down by a bolt of lightning shortly after this rare single's release. Whatever the case may be, it's a must have for fans of classic metal mayhem.
Scrap Metal: Vol. 1 will be available everywhere on LP, CD and download on November 12th, 2021
Scrap Metal 2
 If you were smart enough to get your grubby paws on the first Scrap Metal compilation, you probably have a pretty good idea of what you're in for with our second installment. Featuring long-lost gems from ultra-rare 45s and private press singles—plus one previously unreleased banger—Scrap Metal 2 maintains a steady NWOBHM course. Packed with infectious outliers and supremely talented one-and-done metal warriors from the crucial British movement of the late '70s and early '80s (and some killer American obscurities inspired by them), this collection delivers all the fist-pumping, riff-mongering and flashy solos of heavy metal's golden age. As always, every track has been officially licensed and every artist gets paid.
As a late entry into the NWOBHM sweepstakes, JJ's Powerhouse was formed in Merseyside, England, by guitarist Jon "J.J." Cox with members of his previous band, Quad. Much like the opener to the original Scrap Metal comp, you can hear early Metallica coursing through this legendary ripper. Coincidentally, this ultra-rare 45 was released in '83, the same year as Kill 'Em All.
Taking their name from a 1978 sci-fi novel by Marion Zimmer Bradley, Welsh super troopers Storm Queen reveled in animal-print clothing and flying Vs. The Motörhead-meets-Priest anthem "Raising the Roof" is the flipside to their only single, which the band self-released in 1982. Led by guitarist Dave Morse, Storm Queen's earliest lineup included bassist Bryn Merrick (RIP), who would go on to join The Damned.
Roaring out of Birmingham, England, in 1975, Jameson Raid palled around with fellow Brummies Black Sabbath and named themselves after a failed 19th century attack that helped kick off South Africa's Second Boer War. Their three-song 1979 debut featured the infectious "It's a Crime," which comes across like a deadly hard-glam version of Budgie. Still fronted by vocalist Terry Dark, they're going strong as of 2022.
A.R.C., a punky proto-metal group from the UK, released the boozy single "Home Made Wine" b/w "The Chase" in 1979 and—as far as we know—were never heard from again. They're not to be confused with a gang of Tolkien enthusiasts also called A.R.C., who released two NWOBHM singles in the early '80s and actually were heard from again. Nonetheless, the A.R.C. we have here was led by a thirsty lad named Klaus Brunnenkant, who liked to rock n' roll all night and party every day.
Both sides of Metropolis' sole single bear the legend, "Unauthorized duplication shall result in getting your ass beat." This San Jose metal squad released their only single in 1986 and dedicated it to Metallica bassist Cliff Burton, who had recently been killed in a bus accident. "The Raven" is the serpentine NWOBHM- and Edgar Allan Poe-influenced flipside to "Time Heals Everything," and yeah, you can hear the guitars going out of tune on the solo, but that's part of the charm.
Of the two dozen or so metal bands that have called themselves Prowler over the years, we're pretty sure this particular Prowler is the only one from San Diego. These dudes take a thrashier approach than most of the bands here on Scrap Metal 2: "Temporary Insanity" strikes a deft balance between early Anthrax and early Testament, with just enough hard rock swing to keep it from getting overly staccato. Self-released in '86 as the band's only single, the song is the flip to "I Love It."
Not much is known about Christian Steel beyond this: They put out their only single in 1983, which boasted "Need Your Love" as the flip to "I Don't Want To." The former, included here, sounds kinda like a dizzy, more metallic version of '70s Jersey rockers Starz, who famously influenced the likes of Mötley Crüe, Poison and Twisted Sister.
Ohio guitarist/vocalist Marty Soski's career dates back to at least 1969 with the Inside Experience track "Be On My Way," which we unearthed for our own Brown Acid: The Third Trip. This time, we've got a monster Soski cut that he recorded under the name Black Rose. Released in 1982, the absolutely smokin' "Sidewinder" was the A-side on the band's sole single. The main riff isn't far off from Y&T's major-label banger "Mean Streak," which was released the following year.
When Dark Age titled their 1987 album The Youngest Metal Band in the World, they weren't even sort of kidding. Legend has it that "Star Trippin'," which was released as a single a year earlier, was written by guitarist CJ Rininger when he was just 12 years old. His brother Dave, the vocalist, was two years younger. Old photos of the band—complete with pineapple haircuts—seem to bear this story out. Either way, the song is pure flash metal, conjuring Sunset Strip sleaze all the way from Ohio.
By now, all you heads know Los Angeles magic men Sorcery from their storied appearance in—and soundtrack for—the death-defying Ozploitation flick Stunt Rock. What we have here in "Whales" is a previously unreleased track from the same 1978 recording sessions. It's a little bit Zeppelin, a little bit prog, and a whole lotta thundering riffage. Why this languished in the vaults for so long is anyone's guess. Better late than never!