BEHOLD. THE SPECTACLE THAT IS SORCERY!
In the 1970s era of rock's theatrical excesses, Sorcery delivered next level performances in which a battle ensued on stage between illusionists portraying Merlin versus Satan.
While Alice Cooper and KISS brought costumes, gore and flashpots to the mainstream, these Los Angeles hard rockers integrated live magic, theatrical drama and fourth wall breaking performance for new heights in musical storytelling. While Sorcery consists of professional musicians — the core group being guitarist Richard (Smokey) Taylor, vocalist Greg Magie and bassist Richie King — two magicians also perform on stage when they play live. The band's nearly immediate local popularity from their debut in 1975 also made them in demand for film and TV. Enter: Stunt Rock.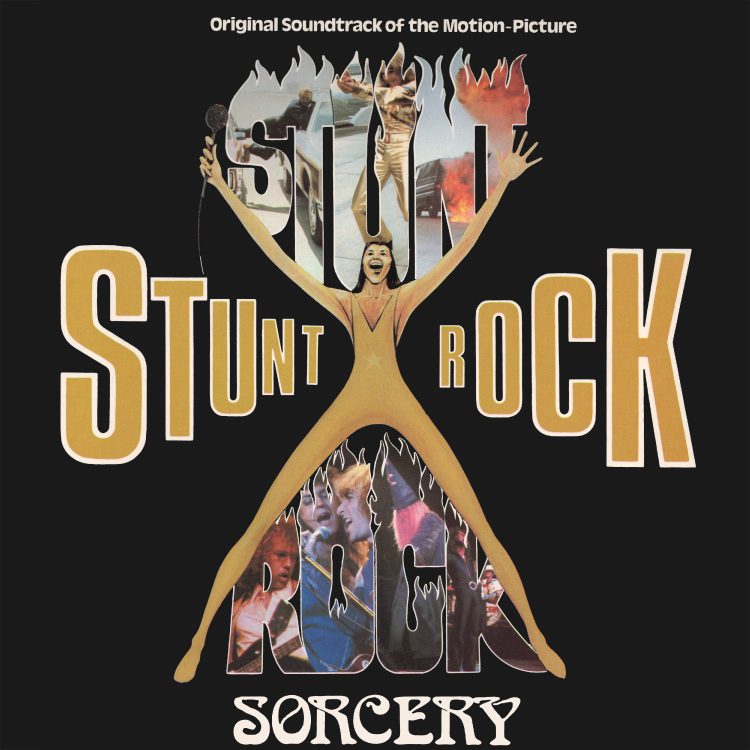 Way before Jackass, before Crocodile Dundee, contemporaneous with Kiss Meets The Phantom of The Park and as timeless as classic Heavy Metal, there was Stunt Rock. The 1978 low budget, high concept B-movie integrated hard rock, magic, dangerous stunts and an early form of mockumentary filmmaking into an epic feature film about an Australian stunt man reunited with his American cousin (andSorcery member) in L.A., and all Hell breaks loose.
Sorcery composed the soundtrack — which also served as the band's debut album — and were shown performing songs throughout the film.
The Stunt Rock soundtrack highlights the sweet spot between the playful, campy occult imagery of the 70s before Satanic Panic and the religious right's kayfabe outrage pushed bands to tone things down in favor of glam pomp. What you get here is pure, knobby occult heavy metal that sounds something like Sin After Sin era Judas Priest with Robert Plant on vocals, crossed with the melodrama of Alice Cooper and The Who's rock operas. The songs are taut, quickly shifting from part to part, motif to overture. The tunes are infinitely catchy and laden with attention grabbing titles like "Talking To The Devil", "Mark of The Beast", "Stuntrocker" and "Burned Alive." On the surface, the film Stunt Rock seems campy and crazy enough to be embraced even if the music weren't all that exciting, but Sorcery proves that their work deserves to be seriously appreciated in the canon of classic rock.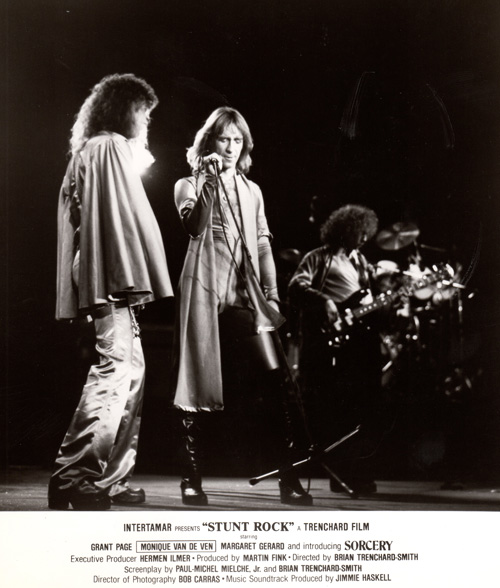 Sorcery was founded in 1975, and recently reformed after inking the contract in 2021 with RidingEasy Records for the album reissue. So, rest assured, fans will have the opportunity to hear these songs live, potentially accompanied by magicians as well for the full effect. While they were overlooked in their heyday, Sorcery's Stunt Rock album stands the test of time.
SORCERY is Richard "Smokey" Taylor (guitar, vocals), Greg Magie (vocals), Richie King (bass) and Perry Morris (drums).
Official Soundtrack: Stunt Rock will be released digitally on June 10, 2022 and on vinyl as an authentic reproduction of the original gatefold album cover on February 28th, 2023 via RidingEasy Records.
For more on Sorcery: Wikipedia