Electric Citizen is kicking the summer off with a new album announcement and a tour in support of Monster Magnet!

The new record will be out September 28th, and will be ominously titled "Helltown"

The band announced North American tour dates today for Fall 2018 supporting heavy psych favorites Monster Magnet. Tickets go on sale today at 10am local time. Please see complete dates below. 

Electric Citizen is a rock n roll band from Cincinnati, Ohio whose heavy sound is timeless and music to the ears of any rock n roll fan. Formed in 2013 by guitarist Ross Dolan, vocalist Laura Dolan, bassist Nick Vogelpohl and drummer Nate Wagner, the band has busied itself with turning heads and ears on to their music. Signed to RidingEasy Records the band's 2014 debut, Sateen thrust them to the heavy rock forefront.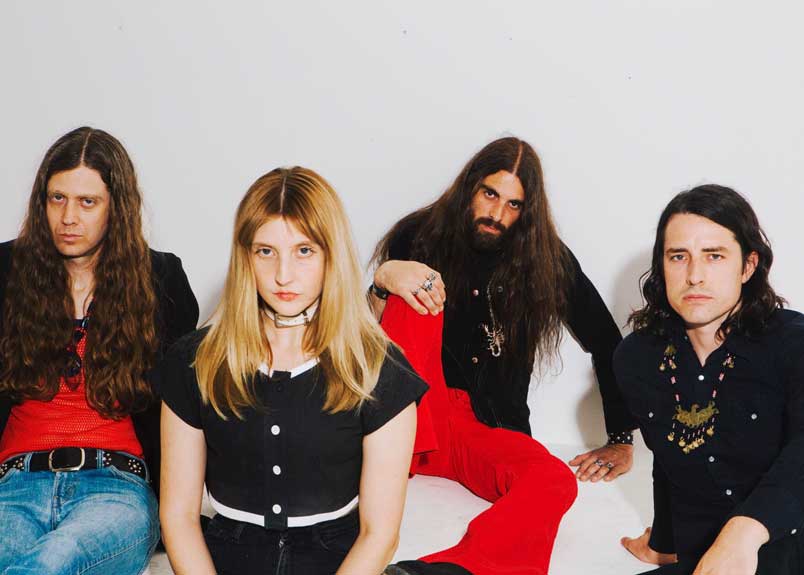 Electric Citizen's 2016 album Higher Time was an expansive and somewhat cleaner effort mixed by Black Keys engineer Collin Dupuis at Easy Eye in Nashville, TN. It was a landmark moment for the band earning considerable press praise — Consequence of Sound named it in the 20 Most Anticipated Albums of 2016 with "the most breakout potential of all the young bands on this list."
The band's endless touring since the first album earned them stints opening for acts like Pentagram, The Crazy World of Arthur Brown, Fu Manchu, Budos Band, Wolfmother and playing renowned festivals like Psycho Las Vegas, Psycho California and Desert Fest Belgium.
ELECTRIC CITIZEN // MONSTER MAGNET TOUR 2018:
09/28  Toronto, ON @ Lee's Place
09/29  Mt. Clemens, MI @ Emerald Theatre 
10/02  Chicago, IL @ Bottom Lounge 
10/03  Minneapolis, MN @ Cabooze
10/05  Denver, CO @ Bluebird Theater
10/06  Salt Lake City, UT @ Urban Lounge
10/08  Portland, OR @ Hawthorne Theater
10/09  Vancouver, BC @ Commodore Ballroom
10/10  Seattle, WA @ El Corazon
10/12  San Francisco, CA @ Thee Parkside
10/15  Santa Ana, CA @ The Observatory
10/16  San Diego, CA @ Brick By Brick
10/17  Phoenix, AZ @ Rebel Lounge
10/19  San Antonio, TX @ Paper Tiger
10/20  Dallas, TX @ Canton Hall
10/21  Houston, TX @ White Oak Music Hall
10/23  Atlanta, GA @ The Masquerade
10/24  Nashville, TN @ Basement East
10/26  Baltimore, MD @ Baltimore Soundstage
10/27  New York, NY @ Gramercy Theatre
10/28  Cambridge, MA @ The Sinclair