RidingEasy Records announces DesertFest UK takeover, plus many additional festival & tour dates
RidingEasy Records announces a stage takeover at DesertFest London on Friday, May 3rd, featuring sets by Electric Citizen, Blackwater HolyLight, R.I.P., Zig-Zags and Alastor at the Underworld.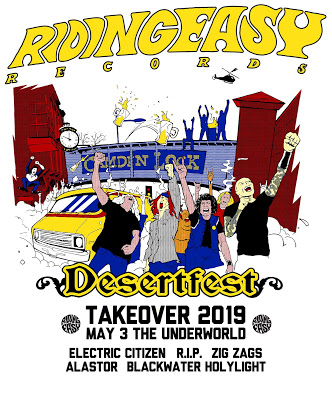 The takeover comes hot on the heels of the SoCal label's inaugural Psycho Smokeout festival on 4/20 in Los Angeles, which features RidingEasy mainstays Monolord, Electric Citizen, Here Lies Man, R.I.P., Zig-Zags, Hell Fire, Mick's Jaguar and Blackwater Holylight.
RidingEasy bands will criss-cross highways all across the U.S., UK and EU on tour surrounding these events, including DesertFest NYC, DesertFest Berlin and Esbjerg Fuzztival in Denmark. Please see current dates below.
ALASTOR TOUR 2019:
05/03 London, UK @ DesertFest UK
05/10 Esbjerg, Denmark @ Esbjerg Fuzztival
05/16 Gothenburg, SE @ The Abyss
05/30 Kronobergs Län, SE @ Muskelrock 2019
BLACKWATER HOLYLIGHT TOUR 2019:
04/26 Linz, AT @ Stadtwerkstatt
05/01 Bristol, UK @ The Lanes
05/02 Newcastle, UK @ Trillans
05/03 London, @ DesertFest UK
05/04 Liege, BE @ La Zone
05/05 Berlin, DE @ DesertFest Berlin
05/08 Malmo, SE @ Plan B
05/09 Stockholm, SE @ Undergangen
05/10 Gothenburg, SE @ Truckstop Alaska
05/11 Esbjerg, DK @ Esbjerg Fuzztival
05/13 Oldenburg, DE @ MTS LP Store
05/15 Vienna, AT @ Aerena Beisl
05/16 Olten, CH @ Coq'D'or
05/17 Innsbruck, AT @ PMK
ELECTRIC CITIZEN TOUR 2019:
04/20 Los Angeles, CA @ Psycho Smokeout Festival
04/27 New York, NY @ DesertFest NYC
05/01 Bristol, UK @ The Lanes
05/02 Newcastle, UK @ Trillans
05/03 London, UK @ DesertFest London
05/04 Liege, BE @ La Zone
05/05 Berlin, DE @ DesertFest Berlin
05/08 Malmo, SE @ Plan B
05/09 Stockholm, SE @ Undergangen
05/10 Esbjerg, DK @ Esbjerg Fuzzfestival
05/11 Gothenburg, SE @ Truckstop Alaska
05/13 Oldenburg, DE @ MTS LP Store
05/16 Olten, CH @ Coq'D'Or
05/17 Munster, DE @ Rare Guitar
05/18 Cottbus, DE @ Zum Faulen August
05/22 Koln, DE @ MTC Club
05/23 Karlsruhe, DE @ Alte Hackerei
05/24 Innsbruck, AT @ PMK
05/25 Bolzano, IT @ Pippo Stage
05/26 Monastier di Treviso, IT @ Krach
05/27 Munich, DE @ Backstage
05/28 Vienna, AT @ Arena
05/29 Linz, AT @ Kapu
05/31 Alvesta, SE @ Muskelrock Festival
06/01 Copenhagen, DK @ Lygtens Kro
HELL FIRE TOUR 2019:
04/05 Reno, NV @ Dead Ringer
04/06 Salt Lake City, UT @ The Loading Dock
04/07 Denver, CO @ Hi Dive
04/09 Omaha, NE @ The Drinkery
04/10 Oklahoma City, OK @ Blue Note Lounge
04/11 Dallas, TX @ Ridglea Theater
04/12 Austin, TX @ Lost Well
04/13 Houston, TX @ White Oak Music Hall – Hell's Heroes Festival
04/14 San Antonio, TX @ Paper Tiger
04/15 San Angelo, TX @ Dead Horse
04/17 El Paso, TX @ RCGB Thunderbird
04/18 Tempe, AZ @ Yucca Tap Room
04/19 Oceanside, CA @ Pour House
04/20 Los Angeles, CA @ Catch One – Psycho Smokeout Festival
MICK'S JAGUAR TOUR 2019:
4/18 San Diego @ Bar Pink
4/19 Oceanside @ Pour House w/Zig-Zags, Hell Fire, Warish
4/20 Los Angeles @ Psycho Smokeout at Catch One
4/21 Ojai @ Warehouse Party
4/22 San Jose @ The Ritz Bar
4/23 Sacramento @ Blue Lamp
4/24 Fresno @ Full Circle Brewing
4/25 San Francisco @ SF Eagle
4/26 Los Angeles @ The Factory DTLA
4/28 Brooklyn, NY @ Desertfest at The Well
4/30 New Haven, CT @ Cafe Nine w/Here Lies Man
R.I.P. TOUR 2019:
04/24 Roma, IT @ TBA
04/25 Monastier Di Treviso, IT @ Krach
04/26 Parma, IT @ Splinter
04/27 Brunnen, CH @ Kult Turm
04/28 Salzburg, AT @ Rockhouse
04/30 Dresden, DE @ Chemiefabrik
05/01 Milton Keynes, UK @ Craufurd Arms
05/02 Bristol, UK @ Zed Alley
05/03 London, UK @ DesertFest UK
05/04 Berlin, DE @ DesertFest Berlin
05/05 Oldenburg, DE @ MTS Record Shop
05/07 Athens, GR @ Death Disco
05/08 Mannheim, DE @ TBA
05/10 Gueret. FR @ Metal Cultures Fest
05/11 Lorient, FR @ Le Galion
05/14 Rhone-Alpes, FR @ Mistral Palace
05/15 Torino, IT @ Blah Blah
05/16 Basel, CH @ TBA
05/17 Martigny, CH @ Le Caves Du Manoir
05/18 Aulla, IT @ Club 22
05/19 Verona, IT @ Stoner Mafia
05/20 Zerobranco, IT @ Altroquando
05/21 Pescara, IT @ Scumm
THE WELL TOUR 2019:
04/12 Lafayette, LA @ Freetown Boom Boom Room
04/13 Cypress Creek, LA @ Fête du Void Festival
04/24 Dallas, TX @ Club Dada w/ Monolord
04/25 Austin, TX @ Barracuda w/ Monolord – album release party
04/27 Austin, TX @ Independence Brewery
04/28 Austin, TX @ Waterloo Records
05/01 Omaha, NE @ Slowdown w/ Monolord
05/02 Denver, CO @ Hi-Dive w/ Monolord
05/03 Phoenix, AZ @ Yucca Tap Room
05/04 Los Angeles, CA @ House of Machines
05/06 Sacramento, CA @ Blue Lamp
05/07 Nevada City, CA @ Cooper's
05/08 San Francisco, CA @ Elbo Room
05/09 Portland, OR @ High Water Mark
05/10 Seattle, WA @ Substation
05/11 Vancouver, BC @ Static Jupiter
05/12 Calgary, AB @ Palomino
05/13 Edmonton, AB @ Temple
05/14 Winnipeg, MB @ The Windsor
05/15 Minneapolis, MN @ TBA
05/16 Des Moines, IA @ Vaudeville Mews
05/18 Taos, NM @ Monolith on the Mesa Fest
05/19 El Paso, TX @ Monarch
ZIG-ZAGS TOUR 2019:
05/03 London, UK @ DesertFest UK
05/04 Berlin, DE @ DesertFest Berlin
05/06 Prague, CZ @ Academy of Fine Arts
05/07 Leipzig, DE @ Ilses Erika
05/08 Erfurt, DE @ Tiko
05/10 Karlsruhe, DE @ Alte Hackerei
05/11 Milan, IT @ Sound Music Club
05/12 Lugano, CH @ LSD
05/14 Valence, FR @ Mistral Palace
05/15 Lyon, FR @ Trokson
05/16 Paris, FR @ Supersonic
05/17 Rotterdam, NL @ V11
05/18 Lohr am Main, DE @ Umsonst und Drinnen Festival
05/19 Eindoven, NL @ Dynamo
05/21 Manchester, UK @ Soup Kitchen
05/22 Margate, UK @ Elsewhere
05/23 Charleroi, BE @ Rockerill
05/24 Harlem, NL @ Patronaat
05/25 Groningen, NL @ Vera
04/19 Oceanside, CA @ Pourhouse w/ Hell Fire, Mick's Jaguar
04/20 Los Angeles, CA @ Psycho Smokeout Festival
08/03 Schierling, DE @ Labertal Festival
08/08 Santarem, PT @ InStr
08/09 Moldeno, PT @ Sonic Blast Moldeno