Blacwater Holylight rewires "heavy music" w/ hints of Sonic Youth, Chelsea Wolfe, Raincoats, Stooges, Beefheart, et al.
"Flat out it's one of the best heavy psych debut albums you'll hear in 2018." — The Obelisk
"This quartet has been burning up stages all around their hometown, fueled by their abrasive blend of doom metal, psych rock, goth and a tangy soupçon of pop music… They landed a spot on the 2018 Best New Bandpoll in alt-weekly Willamette Week, but could quickly take over the world." — Paste Magazine
"They mesh elements of doom, Krautrock and atmospheric indie into one bewitching rock whole." –Classic
Rock MagazineHear & share Blackwater Holylight 2018 debut album (Bandcamp) (Spotify)
Portland, OR quartet BlackWater HolyLight are in the studio all this month recording the followup to their breakout self-titled debut album. The album is scheduled for release in October via RidingEasy Records.
BlackWater HolyLight also announce Spring 2019 tour dates starting with a hometown tour kickoff show in Portland, OR on April 16th and a performance at the highly anticipated inaugural Psycho Smokeout Festival in Los Angeles on 4/20. Please see all dates below.
Their 2018 self-titled RidingEasy Records debut has received unanimous press praise and continues to grow. Brooklyn Vegan recently streamed the entire album HERE.
The notion of "heavy music" is continuing to expand of late, with many intrepid artists finding new ways to incorporate the power of traditional metal into new music, but without all of its trappings. Enter Portland, OR quartet BlackWater HolyLight to further swirl musical elements into a captivating hybrid of emotional intensity. Heavy psych riffs, gothic drama, folk-rock vibes, garage-sludge and soaring melodies all collide into a satisfying whole with as much contrast as the band's name itself.
"I wanted to experiment with my own version of what felt 'heavy' both sonically and emotionally," says founder and vocalist/bassist Allison (Sunny) Faris. "I also wanted a band in which vulnerability of any form could be celebrated." BlackWater HolyLight — Faris, guitarist/vocalist Laura Hopkins, drummer Cat Hoch and synth player Sarah Mckenna — formed upon the breakup of Faris' longtime band and she sought a fresh start. "In my last band I was the only female in a group of 6, so I wanted to see how my song writing and vulnerability could glow taking the drivers seat and working with women."
The band's self-titled debut begins with a simple, almost grunge-like riff as a chorus of voices introduce a melodic line in call-and-response until the band kicks in, slowly building into crescendo like a lost outtake from Led Zeppelin's Houses of the Holy. Elsewhere, "Sunrise" begins with a chorus-drenched post-punk groove until a sonic boom of heavily distorted guitar skree erupts out of nowhere. Nearly as suddenly, the song returns to its lulling core, subtly building the tension until it ruptures completely in a blast of noise.
Likewise, "Carry Her" establishes a dark, sparse melody and distinctly thin sounding drums not far removed from early work of The Cure. However, BlackWater HolyLight's penchant for surprise attack finds a sudden shift into a doom-like dirge, colored with eerie synth notes and pounding shards of fuzz. Throughout the album, their songs shirk traditional verse-chorus-verse structure in favor of fluid, serpentine compositions that move with commanding grace. The band expertly, yet subconsciously, incorporates hints of Chelsea Wolfe, Celebration, Captain Beefheart, The Raincoats, The Stooges, Pink Floyd, Jane's Addiction and more to form their unique brand of dark'n'heavy transcendence..
BlackWater HolyLight was recorded by Cameron Spies at Gold Brick Studios and The Greenhouse, and with Eric Crespo at Touch Tourcher Recording in Portland. The album is available on LP, CD and download, released April 6th, 2018 via RidingEasy Records on LP & CD HERE and digital at blackwaterholylight.bandcamp.com.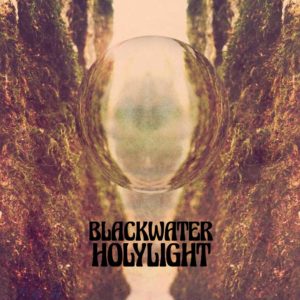 BLACKWATER HOLYLIGHT LIVE:
04/16 Portland, OR @ Doug Fir Lounge w/ R.I.P.
04/20 Los Angeles, CA @ Psycho Smokeout Festival
04/26 Linz, AT @ Stadtwerkstatt
05/01 Bristol, UK @ The Lanes
05/02 Newcastle, UK @ Trillans
05/03 London, UK @ DesertFest
05/04 Liege, BE @ La Zone
05/05 Berlin, DE @ DesertFest
05/08 Malmo, SE @ Plan B
05/09 Stockholm, SE @ Undergangen
05/10 Gothenburg, SE W Truckstop Alaska
05/11 Esbjerg, DK @ Esbjerg Fuzzfestival
05/13 Oldenburg, DE @ MTS LP Store
05/14 Berlin, DE @ Zukunft
05/15 Vienna, AT @ Aerena Beisl
05/16 Olten, CH @ Coq'D'or
05/17 Innsbruck, AT @ PMK
Artist: BlackWater HolyLight
Album: BlackWater HolyLight
Label: RidingEasy Records
Release Date: April 6th, 2018
01. Willow
02. Wave of Conscience
03. Babies
04. Paranoia
05. Sunrise
06. Slow Hole
07. Carry Her
08. Jizz Witch
For more information, contact Dave Clifford at [email protected]