L.A. trio Zig Zags w/ fury of Kill 'Em All era Metallica, and wit of a metal Mudhoney

L.A. punk-metal trio Zig-Zags announce their fourth album, and debut on RidingEasy Records today, sharing the lead single via Brooklyn Vegan. Hear and share "Punk Fucking Metal" via YouTube, Bandcamp or Spotify.
"Everyone puts photos of Sid Vicious up on Instagram. The other night I watched D.O.A, the documentary about The Sex Pistols' first and only U.S. tour. In it, Sid's a mess, he and his annoying girlfriend. And they're the only ones who get interviewed! Maybe John Lydon and Steve Jones (not to mention the drummer) didn't want to participate. Maybe Nancy made Sid do it. But it whatever the case, I didn't wanna watch it. The rest of the band is crushing! They sound just like the record! As a musician in a touring band, I can't stand Sid Vicious. He's cartoon character with a Swastika shirt, nodding off while everyone else loads the gear. I don't care if it's punk — you still gotta be able to play." – J. Maheu, lead vocals and guitar for Zig Zags.
8 years, 7 singles, 3 albums, 3 bass players, 2 drummers and God knows how many shows later – Zig Zags has continually evolved, mutated, transitioned and transformed, rising again and again, like a phoenix emerging from the flame.
The addition of the newest member of our triumvirate – multi-instrumentalist, designated bassist (and longtime Zig Zags sound engineer) Sean Hoffman – recalls those golden moments past, when destiny stepped in…like when Neil Peart joined Rush or Bob Rock teamed up with Metallica.
In short — the circle is now complete, the cornerstone has been set and the winged serpent rises –once again.
Some say it's luck, but really, it's about patience. A band is like a relationship. You have to know when to push, and when to hold back. You gotta listen and you gotta learn. We look to the masters. Like Henry and Glenn, we've gone from drinking hooch to pumpin' iron. We quit smoking. Two of us are married, for chrissakes! After 2017's brutal European tour, which left us coughing blood and taking names, we sought out Lemmy's Doctor (Feel Good), who diagnosed us with,"Rock'n'roll Pneumonia". Like Lemmy, we were pushing too hard. And if you push too hard you'll end up in an apartment above The Rainbow Room, playing video poker on Christmas Eve (which is also your birthday)…but that's another story.
The thing is – we ain't dead yet. Every album we record, every song we write – has to be faster, harder and heavier – than the one before. And that's why this new record is all about upping the ante and raises the stakes, and why it marks the dawn of a new day…and a new era.
This album, our first with RidingEasy, was written over the last year. It's reveals our longtime roots, our enduring love (all hail!) to the early punk of our hero(ines) Dead Moon and The Wipers (forever!) but friends, don't be misled…this is a METAL record – of the true blue, headbangin', riff-ridin', no-bullshit – kind.
Listen here – it ain't easy to play guitar and sing at the same time! But the more you focus, the more you get your head in the game, the more you push (yourselves and each other), the better it all gets. And the songs, they thank you for it. They get tougher, wilder and more raw, the more you strip them down.
They'll Never Take Us Alive will be available on LP, CD and download on May 10th, 2019 via RidingEasy Records. Pre-orders are available HERE.
ZIG-ZAGS LIVE 2019:
05/03 London, UK @ Desertfest
05/04 Berlin, DE @ Desertfest
05/06 Prague, CZ @ Academy of Fine Arts
05/07 Leipzig, DE @ Ilses Erika
05/10 Karlsruhe, DE @ Alte Hackerei
05/11 Milan, IT @ Sound Music Club
05/12 Cuneo, IT @ TBA
05/14 Valence, FR @ Mistral Palace
05/15 Lyon, FR @ Trokson
05/16 Paris, FR @ Supersonic
05/17 Rotterdam, NL @ V11
05/18 Lohr am Main, DE @ Umsonst und Drinnen Festival
05/19 Eindoven, NL @ Dynamo
05/20 London, UK @ The Shaklewell Arms
05/21 Manchester, UK @ Soup Kitchen
05/22 Margate, UK @ Elsewhere
05/23 Liege, BE @ Rockerill
05/25 Groningen, NL @ Vera
04/19 Oceanside, CA @ Pourhouse
04/20 Los Angeles, CA @ Psycho Smokeout Festival
08/03 Schierling, DE @ Labertal Festival
08/08 Santarem, PT @ InStr
08/09 Moldeno, PT @ Sonic Blast Moldeno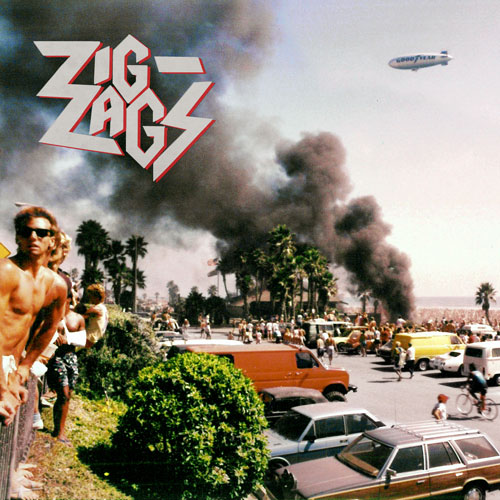 Artist: Zig-Zags
Album: They'll Never Take Us Alive
Label: RidingEasy Records
Release date: May 10th, 2019
01. Punk Fucking Metal
02. Killer of Killers
03. Fallout
04. No Way Out
05. Ms 45
06. The Shout
07. Why I Carry a Knife
08. They'll Never Take Us Alive
09. Nothing To Do
10. God Sized
On the Web:
facebook.com/zigzagsmusic
zigzags.bandcamp.com